---
Least Expensive Airfare to Four Continents
Least expensive air travel from Omaha to four continents - Europe, Asia, South America and Africa.
---
Outline
Ground rules
Method
Influence of travel dates
Least expensive round-trip to Europe
Least expensive round-trip to Asia
Least expensive round-trip to South America
Least expensive round-trip to Africa
Sum total of all three airfares
---
Ground rules
This is somewhat of a competition. I give extra points for the person with the least total airfare to all these continents. All airfares must be roundtrip from Omaha, and must for be a three-week period from now until Sept. 1. It can be two different airlines, in which case you would present two different graphic files. The timing must be such that you can make the connection. Provide at least 3 hours. If the connection has you spending the night at the airport, you must include the cost of a hotel.
Generally, the least expensive fares to these destinations are from coastal cities in the US, like LA and New York. In order to get the lowest fare, you need to find the least expensive coastal city and the least expensive flight from Omaha to that city. Sites like Kayak and Expedia won't do this automatically. There may be some ground transportation involved in transferring to a nearby airport. Include the ground transportation cost and associated graphics. Bigger cities have multiple airports so don't get confused. New York, for example, has five airports: JFK, LaGuardia, Newark, White Plains, and Newburgh. Only three offer international flights. The cheapest flights are often from the smaller airports that charge a lesser fee for landing.
You don't need to check luggage, but you do need to include a carry-on bag.
Prices vary widely during this period. They also vary by day of the week. You must present screenshots of the airfare with enough detail to verify the dates, connections, and price - including taxes. Use only commercial airlines - you can't use military aircraft or family connections with commercial companies. The flight leaves from Omaha you can't drive to another city.
Method
In my initial draft, many of the places that I chose were based on places that I wanted to visit.† However, it appears that these places are not the cheapest places to fly.† I realized that thru this project, my knowledge of cities and their continental locations were not up to speed. †I am not a seasoned international traveler, so this is assignment took me much longer than I anticipated. †I did consider the departure and arrival times, as noted in the rules above, we were to try and allow 3 hours between flights. I can see why this is important. Flights arenít as frequent in many of these cities. †After taking the announcements into consideration, I was able to search the flights as suggested, and this helped in making selections.† Working on the edits took another 3 hours of my time.† The suggestions made by the classmates on the search engines were helpful.† I found that JustFly.com had the least costly fares in comparison.
Influence of travel dates and cities
My travel dates were influenced by the cheapest available searches.† When searching flights on JustFly, this didnít always allow me to search by the lowest dates.† This did vary by use of sites. †For example, I could search on StudentUniverse for a 3 week block, but if I had to fly to LAX, SEA or NEW, this had an impact on the pricing as well. †I did find that flying to China from Seattle or LAX was the least expensive route.† If flying to South American, flying from the south was the least expensive. †
I found that flights were much more expensive during the summer months, and even as you got closer towards September. I found the least expensive were during late February to April.†† †††
Least expensive round-trip from Omaha to Europe
OMA to MAD $464.63
Feb 27 Ė Mar 20, layover in PHL.
I was able to find this flight at Justfly.com.

Least expensive round-trip from Omaha to Asia
OMA to LAX MAR 31 will not require overnight stay since flight departing LAX leaves at 1:50AM
LAX to PEK
PEK to LAX APR 22 8:40PM
LAX to OMA APR 22 11:59PM
Total for both flights - $667.20



Least expensive round-trip from Omaha to South America
OMA to MCO $270 roundtrip
MCO to BOG $191.03 roundtrip
total - $461.03
Both of these flights were coordinated on Justfly.com.†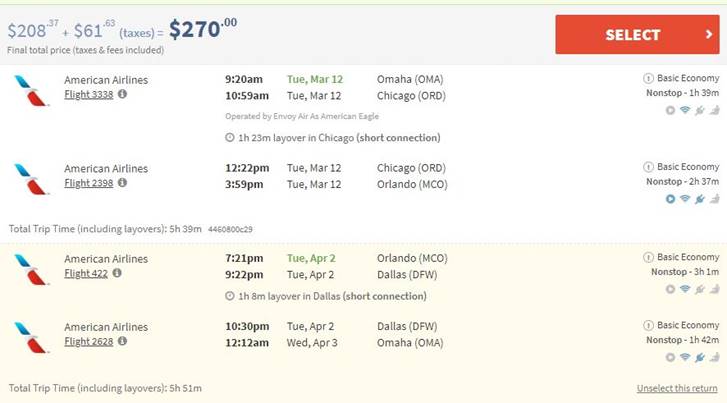 Least expensive round-trip from Omaha to Africa
Round trip flight from Omaha Feb 27 and arriving in Madrid Feb 28. Flight from Madrid will leave Feb 28 (8 HR layover). Flight from Las Palmas will arrive in Madrid requiring an overnight stay.† I did select two airport hotel prices.† I would book the $24 room, as this has a free cancellation. I did locate this flight on Justfly.com
Total for both flights and room $604.70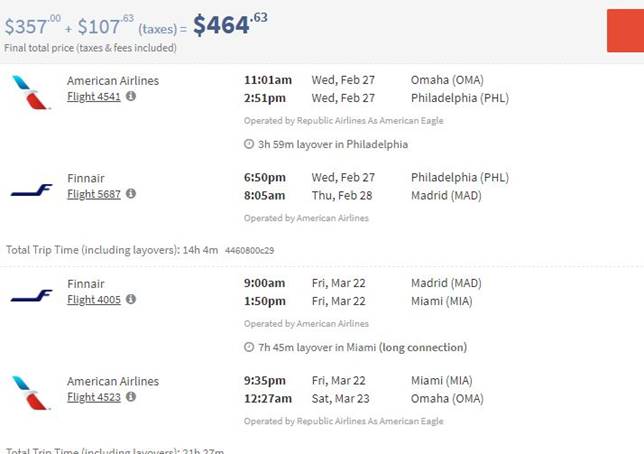 Sum total of all four airfares
Europe: $464.63
Asia: $667.20 both roundtrip flights
South America: $461.03 both roundtrip flights
Africa: $604.70
Total price $2,197.56
---
Submitted by Katina Winters on 02/06/2019 edited 2/16/19